I have always had a special place in my heart for all things old and worn. To me, there is just something about those pieces, It's almost as if you can look at them and imagine the story they would have to tell. I feel by adding those kinds of pieces to my home it enriches the character and charm of a 'true' farmhouse. 
I first laid my eyes on an old nesting box while at the stockpen with my husband. Before the animals go up for auction they will auction off random items, and along came this old worn 'gorgeous' nesting box. I told my husband, 'I want that.!' I could just see it hanging on my wall. Unfortunately I did not get that nesting box, but that did peak my interest on finding another one. So I looked on Craigslist and found a guy that had 100's for sale.! Even though we had to drive 1.5 hours to go pick up the box I figured, well I'll get a few (make the trip worth while) and so I came back with 4 boxes.
We got the boxes home and I took them out back for a good cleaning.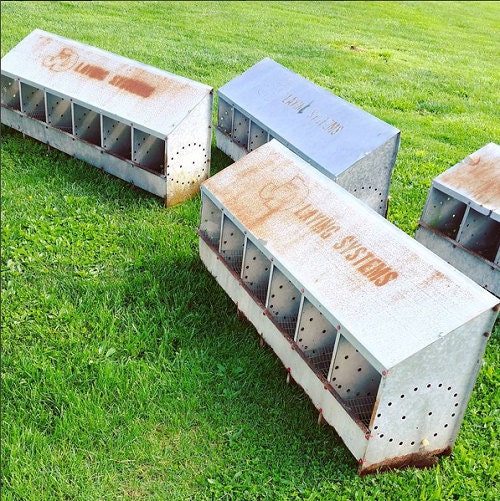 There they sat for close to 2 months.! I know, I know.. LoL.. I can be the worst sometimes when it comes to decorating. I have had peices sitting for close to 6 months before I can decide exactly how I want to decorate it and where exactly I want to put it. 
I decided the first box will go in my daughter's bedroom. I had just finished her bedroom remodel and had the perfect wall space for it.!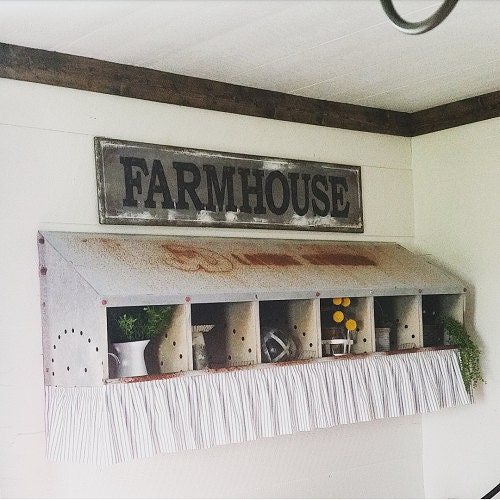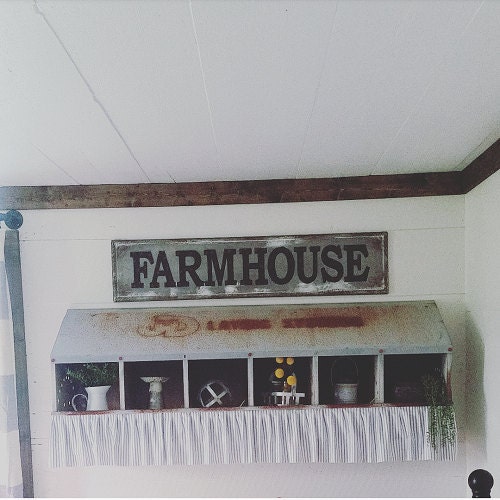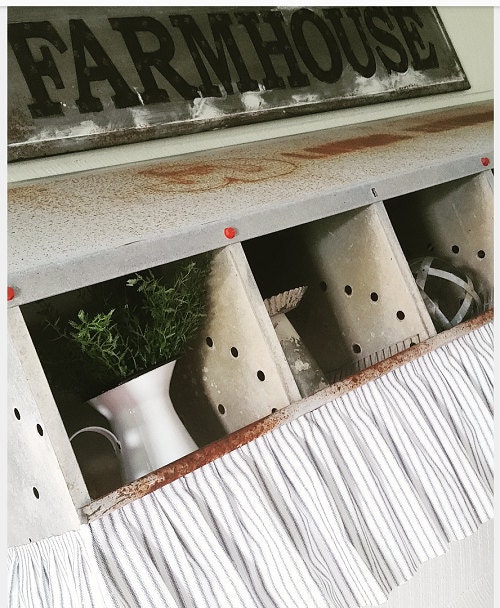 Ta-Da.!! When we first hung the nesting box I wasn't liking the look of the rusty feet hanging down, so I decided I would go to Hobby Lobby and pick up some fabric and I had a certain type of fabric style in mind, I was wanting fabric with an old style ticking pattern and to my surprise they had it.! As I happen to be walking through the store I started noticing 50% off signs everywhere, it just so happened to be one of those weeks where everything was 50% off.! What better time to find some peices to fill each nesting box.
Where to buy:
Echeveria Succulent in Metal Can
Unfortunately after much searching and using item numbers from the tags of the items I pruchased, not all of the items are available online.