The first bedroom remodel took place in our eldest daughter's room.  When we bought our 1900 Farmhouse I noticed the home had two chimney stacks, but not one time did I think about how many fireplaces the home might have. When we bought the home there were only 2 open fireplaces. Come to find out the home has 6 fireplaces.!! 
As soon as we moved in I pulled the carpet up from both of my daughter's rooms. While the carpet had been steam cleaned prior to us buying the home whoever steamed cleaned the carpets used way more water than needed and with the house sitting closed up waiting on the closing the carpet in their rooms developed a musky smell, that had to go.! Luckily only 3 rooms in the house had carpet, and they all got pulled out. 
Once I started pulling up the carpet in my daughter's room we found the original hardwood floors.!!! Then we came across a concrete slab next to a wall, I stood there for a minute and thought, 'Hmmmm, what is that there for?' and then BAM.! It hit me, a smile went across my face from ear to ear. I looked at my husband and said, 'There's a fireplace back there.!' I took my fist and I began thumping on the wall and I could feel that soild brick and then I could hear a hollow spot. I was beyond excited to findout that ALL of the rooms had fireplaces. I bugged and I bugged for weeks, 'Please let me just bust open the wall, I want to see the fireplace.!' But my husband was not yet in the mood to begin a remodel project. One day I had waited long enough, as I started my walk up the stairs with a hammer in hand I could hear my husband saying, 'You better not be going to do what I think you are going to do?' With a smile on my face I kept on walking up those stairs, went in my daughter's room, found that hollow spot again and It was on.!! 
BEFORE: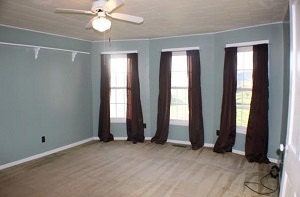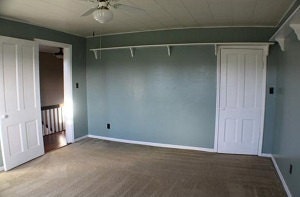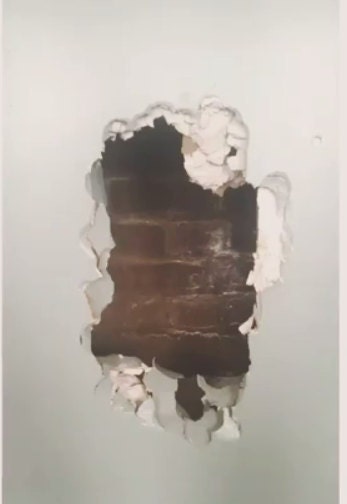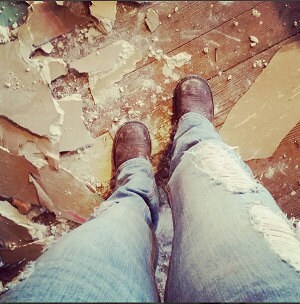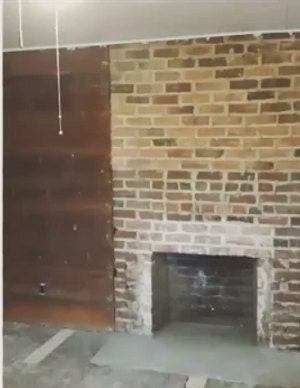 Once I began tearing off sheetrock exposing the fireplace I about fell over when I pulled a piece off exposing some of the wall and saw we had original SHIPLAP WALLS.!!!!!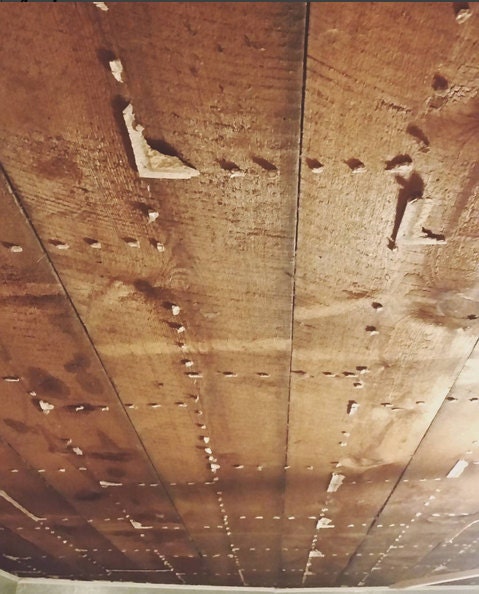 And ceilings.! So we found out the room still had the original 1900 wood floors, shiplap walls, shiplap ceilings and a fireplace.! I was so excited..
AFTER: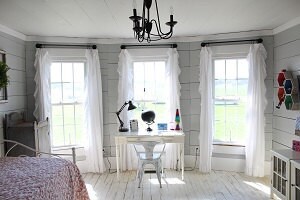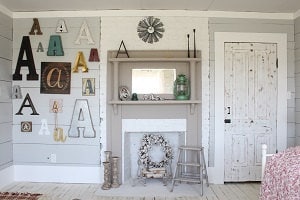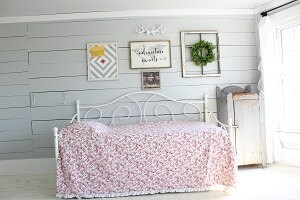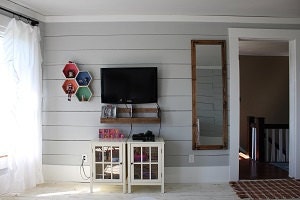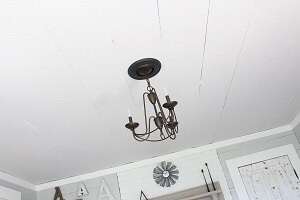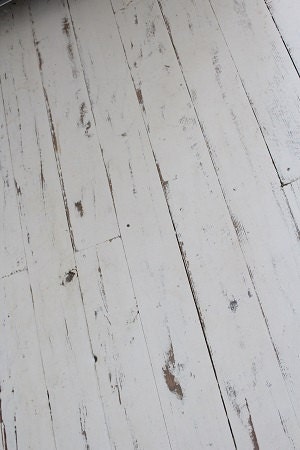 The worst thing about remodeling her room was tearing off and disposing of the sheetrock walls, pulling all of the nails and staples from the wood, filling the holes with wood filler and then sanding everything. Other then that the remodel was pretty simple. We painted the ceiling, walls and floors. Put down new traditional style Farmhouse house trim, new electrical outlets and fixtures sanded the original wood doors and that was pretty much it. 
Where to Buy:
Floor Paint: Pure White by Annie Sloan. You may be able to find a local stockist or you can order online at places suchs as https://www.royaldesignstudio.com/collections/annie-sloan-chalk-paint  Make sure you water the paint down so the covaerage will go a lot farther. 
Chandilier: From Lowes. https://www.lowes.com/pd/allen-roth-Wintonburg-18-in-3-Light-Aged-Bronze-Williamsburg-Candle-Chandelier/50343050
Ceiling Paint: Sherwin Williams White Matte finish
Windmill Wall Clock: From Walmart https://www.walmart.com/ip/Metal-Windmill-Wall-Clock/133013246
Wall Paint: Sherwin William Olympus White Satin finish
Shelf Under T.V.: Hobby Lobby http://www.hobbylobby.com/Home-Decor-Frames/Mirrors-Wall-Decor/Shelves-Wall-Sconces/Rustic-Wooden-Wall-Shelf/p/80766697
Stands Under T.V.: Target.com (No longer available) 
Trundle Bed: Walmart https://www.walmart.com/ip/DHP-Manila-Full-Daybed-and-Twin-Trundle-White/40498310
All of the letter A's: HobbyLobby.com
Desk: Target.com (No longer available)
Desk Lamp: Lowes https://www.lowes.com/pd/allen-roth-Embleton-26-in-Adjustable-Bronze-On-Off-Switch-Swing-Arm-Desk-Lamp-with-Metal-Shade/50355882
Curtains: Shown in White Amazon.com https://www.amazon.com/Lush-Decor-Reyna-Window-Curtain/dp/B01AUVJXWY
Mirror: My husband made
I sure hope you have enjoyed reading about this remodel. We have just finished up our second daughter's room and I will be posting that soon along with 'Where to Buy' links as well.! If you have any questions leave a comment below.!